LATE-BREAKING NEWS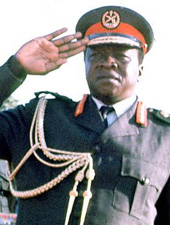 UGANDA, Africa (CNN) -- Family members buried Idi Amin, former Ugandan president and Africa's most notorious despot, in an unceremonious funeral service in Jidda, Saudi Arabia shortly after his death Saturday. Accompanied by his four wives and more than 30 children, Amin had lived in Saudi Arabia for nearly 22 years following his 1979 ouster from Uganda.
The former dictator's death, the result of multiple organ failure, followed a prolonged illness that resulted in his widely publicized hospitalization in mid-July. News reports this weekend of Amin's death came as final payback for many Ugandans, and others around the world, who painfully remember the dictator's bloody, corrupt eight-year regime, during which he led an unpredictable and murderous reign of terror over the Eastern African country and was responsible for an estimated 300,000 deaths of civilians and countless other cases of torture and displacement.
STORY CONTINUED
BAGHDAD, Iraq (CNN) -- For a man who killed tens of thousands of people and tortured his enemies, Saddam Hussein was taken into custody in a surprisingly peaceful manner, Defense Secretary Donald Rumsfeld said Sunday night on CBS' "60 Minutes."
Eight months after Baghdad fell, U.S. soldiers found the disheveled former leader of Iraq six feet under, hiding in a hole in the ground. Saddam was captured Saturday night about nine miles from his hometown of Tikrit and on the other side of the Tigris River from one of his lavish palaces.
STORY CONTINUED
WASHINGTON (CNN) -- President Bush got high marks for his handling of the tsunami disaster, and his job approval rating went up in a CNN/USA Today/Gallup poll released Monday, but most of those surveyed had doubts about his call to overhaul Social Security. Bush's job approval rating went up to 52 percent in the poll, which was conducted Friday through Sunday in phone calls to 1,008 adult Americans. That's an improvement of 3 percentage points from the last CNN poll, taken in mid-December. Another 44 percent said they disapproved of his job performance, down 2 percentage points from the December 17-19 survey. The latest poll had a margin of error of plus or minus 3 percentage points.
STORY CONTINUED