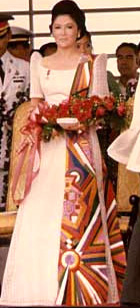 Welcome to Imelda Marcos's Fashions for Fascists
Imelda Marcos was once the 'Steel Butterfly,' the beautiful wife and confidante of Philippine dictator Ferdinand Marcos. The Marcos regime (1965-86) was marked by corruption, political repression and gross financial shenanigans, acts to which Imelda was almost certainly privy. The Marcoses were finally deposed in 1986 and fled to Hawaii, where Ferdinand died in 1989. Imelda Marcos later returned to the Philippines and, in spite of everything, was elected a legislative representative from her native district of Leyte. In October of 2001 she was arrested and formally charged with corruption and amassing a fortune illegally during her husband's regime.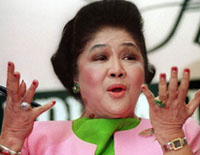 Extra credit: Imelda Marcos was voted Miss Manila in the early 1950s... After the Marcos regime was overthrown in 1986, opposition forces found thousands of pairs of high-fashion shoes in Imelda's closets; the shoes became a symbol of her life of luxury amid the poverty of most Filipinos.